Following Met Gala Debut, 'Bulgari Laguna Blu' Sells for $25M
The fancy vivid blue diamond topped the Sotheby's Geneva "Magnificent Jewels and Noble Jewels" sale.
Geneva—The "Bulgari Laguna Blu" diamond found a buyer at Sotheby's Geneva this week.
The 11.16-carat fancy vivid blue diamond garnered $25.2 million at the "Magnificent Jewels and Noble Jewels" sale.
It is the most valuable gem set into a piece of Bulgari jewelry ever sold at auction, Sotheby's said.
Presented as the final jewel of the jewelry auction's second session, after a four-minute bidding war between one buyer who was present and three on the phone, the blue diamond found its first new owner in 50 years.
Bulgari set the diamond into a ring in 1970 for a private collector in Europe.
Earlier this month, Bulgari unveiled an alternative setting when Priyanka Chopra Jonas wore it to the Met Gala in a diamond necklace inspired by Greco-Roman emperors' bay laurel wreaths.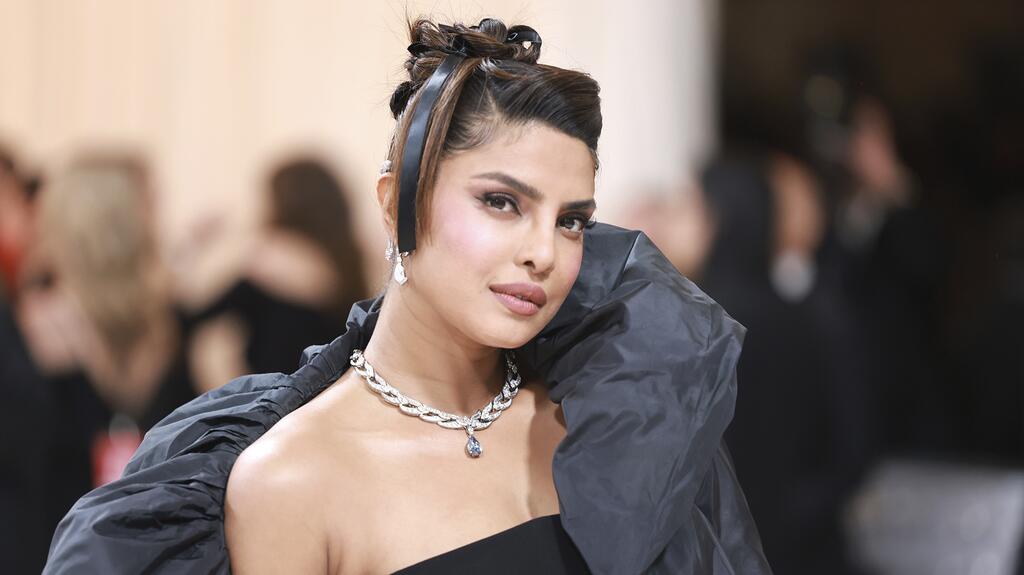 "It's been a privilege to witness the Bulgari Laguna Blu's glamorous and exciting journey over the past few months, knowing that it was first created in 1970, to its most recent Met Gala appearance where it dazzled on the red carpet," said Sotheby's Geneva Head of Jewelry Olivier Wagner.
"So, it's a special moment to see this extraordinary jewel's journey take yet a new turn, this evening in our auction room, in the hands of its first new owner in over 50 years."
Overall, Sotheby's said the auction was its most profitable Magnificent Jewels and Noble Jewels Geneva sale in five years, since May 2018.
Expected to sell for at least $25 million, the Bulgari Laguna Blu just hit expectations at $25.2 million, though more than half of the sale's lots sold for well over their high estimates, and each lot sold fell within or above its estimated range, the auction house said.
Diacore, responsible for cutting many large and notable diamonds, acquired two diamonds at the auction.
It purchased one, the below 21.94-carat cut-cornered rectangular modified brilliant-cut fancy intense pink diamond set between 0.51-carat and 0.46-carat half-moon fancy deep grayish blue diamonds in a ring, for $11.8 million.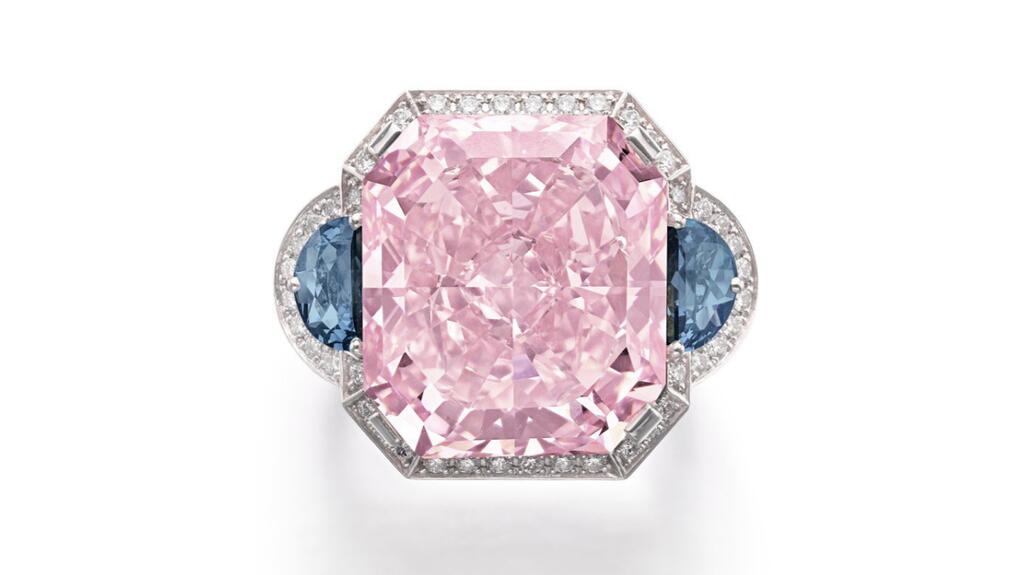 The other, an 11.57-carat step-cut fancy vivid yellow diamond set in a ring seen below, sold for $1.3 million.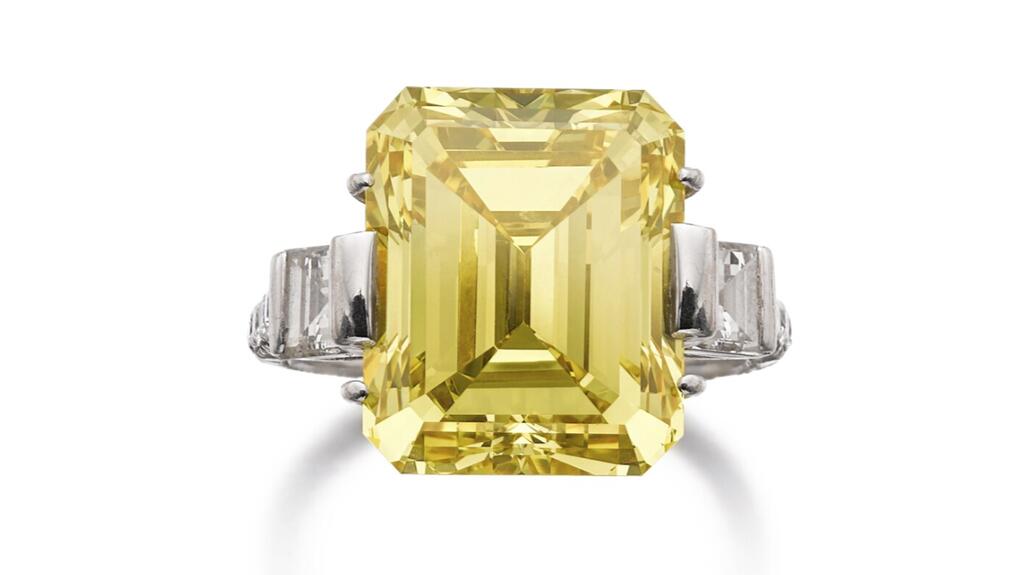 Diacore's pink diamond ring was the sale's No. 2 lot. The No. 3 lot was another pink diamond, below.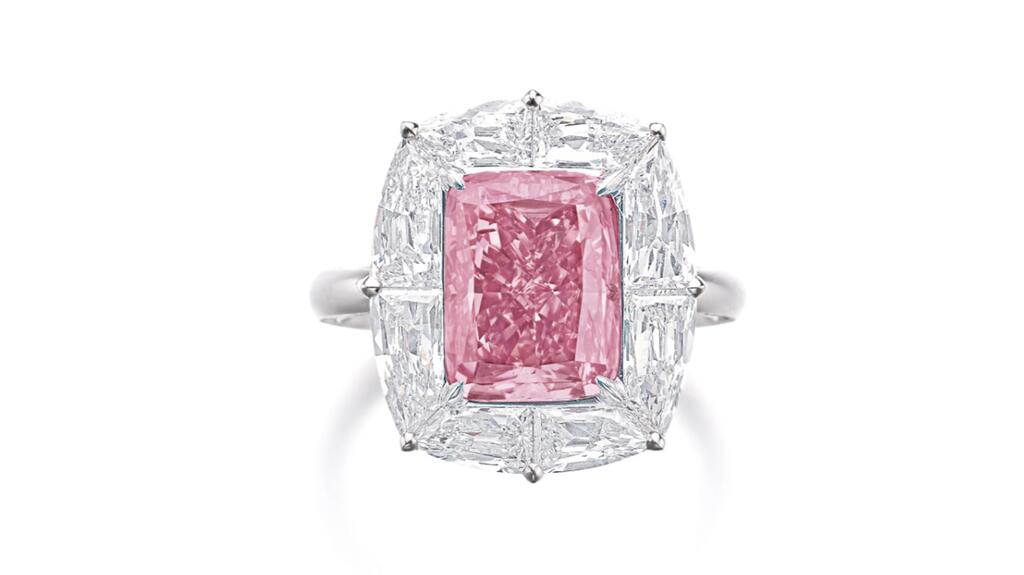 The 5.01-carat round-cornered rectangular modified brilliant-cut fancy vivid purplish pink diamond sold for $6.3 million.
Pink diamonds continue to be on the menu for Sotheby's this spring.
The auction house predicts the 10.57-carat internally flawless, fancy vivid purplish pink diamond, called "The Eternal Pink," to sell for at least $35 million at the Magnificent Jewels sale in New York on June 8.
That equates to $3.3 million per carat, which Sotheby's said is the highest price-per-carat estimate placed on any diamond or gemstone offered at auction.
The 11.15-carat "Williamson Pink Star" currently holds the price-per-carat record at $5.2 million per carat, or a total $57.7 million.